Turkish defense industry companies, which produce solutions in the field of unmanned systems, are working on solutions that can be demanded in the country and abroad in line with current developments and user needs. ESEN System also conducts flight tests with 2 new vehicles developed in this direction.
ESEN General Manager Cem Uğur said in his statement that the engineering company, which left 11 years behind, has been producing solutions in the fields of avionics systems, wide area surveillance systems, signal intelligence, aircraft modification and integration with Turkish engineers since its establishment.
Uğur stated that they turned to unmanned aerial vehicles while thinking about which areas they could transfer this technological accumulation to, "As of the point our country has reached, there are many solutions in this field. We have probably become one of the countries that produce the best solutions in the world. It is difficult to establish such a very good engineering group with the location of our country and the solutions we have created. We have been able to produce such solutions in a short time with our existing software development and system engineering solutions." he said.

"Very few rivals"
Uğur made the following assessments about why they invested in this field, while there are many unmanned aerial vehicle solutions in Turkey and around the world:
"Technology is advancing very rapidly in every field. Especially when we look at the sensors used on aircraft, their capacity is increasing and their weight and power are decreasing. In the past, you can find a 50 kilogram camera system with much lower weights, 10 kilograms, and they do the same job. In unmanned aerial vehicles, too. "You're getting to the point where you can meet your needs with smaller drones. This means less cost, less maintenance. We thought that there would be a market for smaller, smaller unmanned aerial vehicles with lower weight. If you are doing this intelligence with such smaller unmanned aerial vehicles, another trend is to get up with electric motors." -landing systems. This means you don't need runways anymore. About 5 years ago, our view was that the market would shift here. It is an important opportunity to have unmanned aerial vehicles in the use of an outpost, to take off and make an intelligence flight and then land there or elsewhere. This is also an investment. As of today, we see that we were right. When we look at the tenders held abroad in the last 2-3 years, there is a renewal system in the USA. They want the same GÖKHUN vehicle there. They also look at such aircraft in systems that take off and land on ships. So we think we're in a very good position."
Stating that there are 4-5 companies in the world producing in this category, Uğur stated that there are very few vehicles like GÖKHUN with a take-off weight capacity of 110 kilograms.
Cem Uğur stated that they aim to meet the needs of Turkey and abroad with GÖKHUN.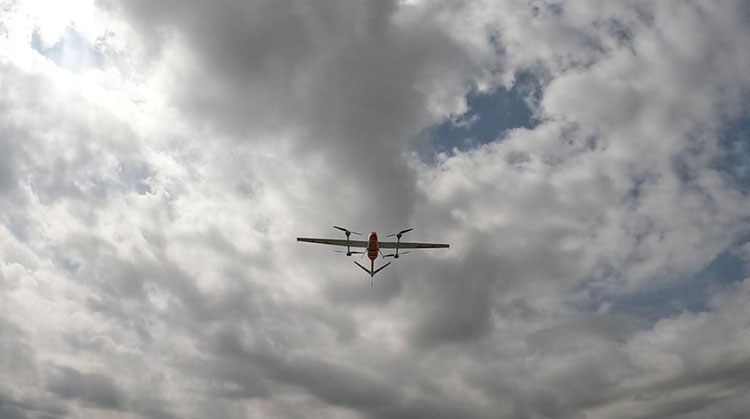 It can stay in the air for 16 hours.
Süha Dinçer, ESEN UAV Systems Director, also said that GÖKHUN is included in a vertical take-off-landing, fixed-wing, hybrid unmanned aerial vehicle class, which can be described as a relatively new category.
Pointing out that this category has a history of 6-7 years, Dinçer stated that there are many vehicles in the world, especially around 25 kilograms, but the number of solutions in this category started to increase with the increase in the capacity of electric motors and batteries, and the decrease in the weight of electric motors.
Emphasizing that GÖKHUN differs from other products in its class with a maximum take-off weight of 110 kilograms, Dinçer stated that the vehicle can structurally carry 18 kilograms of payload and can stay in the air for 16 hours with a payload of 12 kilograms.
Pointing out that there are different levels of redundancy in many systems in the vehicle, Dinçer said that they have triple redundancy in the navigation system and double redundancy in the flight control system and digital data link in military standards.
Noting that they follow the tenders in the world, Dinçer stated that the demands are towards fixed-wing, vertical-landing-take-off systems like GÖKHUN.
Explaining that they have been working for the project since 2019 and that 43 people have been working under the directorship of UAV, Dinçer said, "The autopilot is developed entirely within ESEN. No commercial autopilot or amateur autopilots are used on this plane. Again, the ground control station software belongs to us entirely within ESEN. It is a software developed. Both the structural design and aerodynamic design of the aircraft are entirely ours." used the phrase.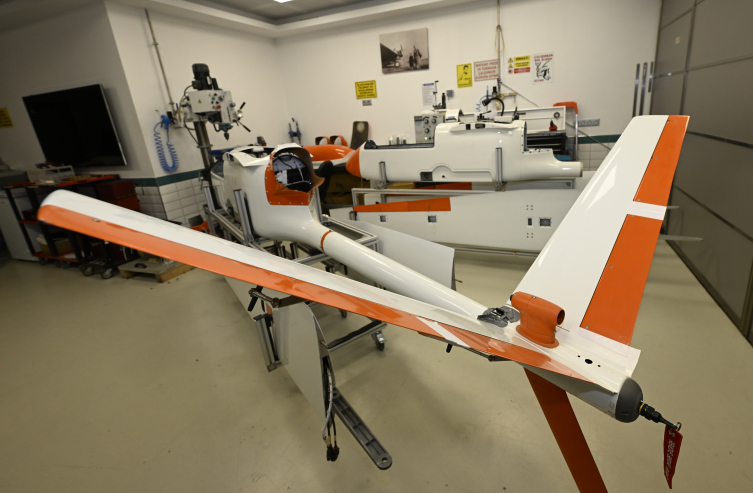 Tests are completed at the end of the year
Responding to the questions regarding the stage the vehicle has reached, Dinçer gave the following information:
"We started flight tests in March. We have carried out 10 flight tests to date. We are currently in the phase of flight tests with electric motors only. This is an aircraft that has been flying straight with an internal combustion engine. At the beginning of September, we will start ground tests with the internal combustion engine integrated into the aircraft. We think we will be able to reach Technology Readiness Level 8 towards the end of the year. There is a development flight test campaign of around 150 hours, which we estimate will be completed by the end of the year.
First of all, we designed this aircraft for military use. We started to perform reconnaissance-surveillance and intelligence duties. Considering its capabilities, it has airtime, speed, range, and an effective mission range of 150 kilometers. His duties are military reconnaissance-surveillance, intelligence duties. It was designed as an aircraft to be used in a class between tactical UAVs and mini UAVs."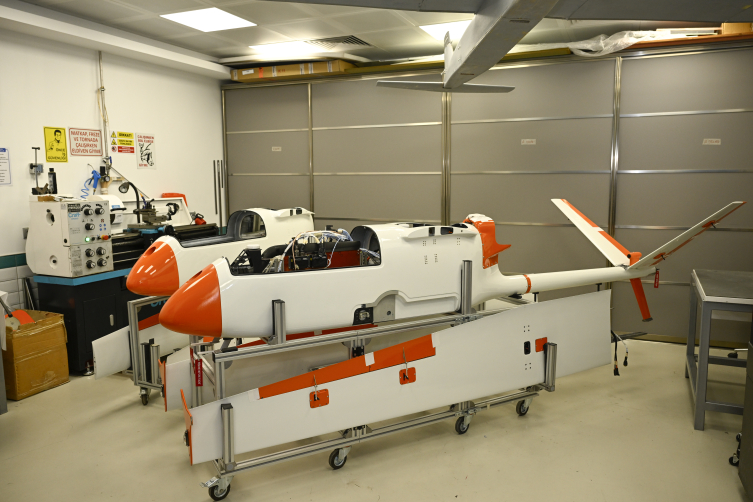 rival to Puma
Süha Dinçer said that the second UAV they developed is in the mini UAV category.
Dinçer noted the following about the features of the vehicle they developed as a concept demonstration tool:
"We haven't named the vehicle yet. It's a fixed-wing electric-powered mini-UAV system that can be launched from a catapult or a vehicle and landed on the fuselage. We have made 8 flights so far. It was developed with a 5-month study in 2020 for a special reason. We plan to productize it later. We want to make this product, the equivalent of the famous Puma Unmanned Aerial Vehicle System, developed in Turkey and made in Turkey. We stopped our development activities, we spend all our efforts on GÖKHUN. We will return to this as soon as possible and adapt the avionics we have developed for GÖKHUN to this aircraft. We have the intention to build a family of drones."