ASELSAN will share its capabilities in the fields of communication, air defense, avionics, electro-optics, electronic warfare, radar and unmanned systems with local and foreign visitors at the 16th International Defense Industry Fair (IDEF 2023) to be held in Istanbul on 25-28 July. .
YILDIRIM-100 Directed Infrared Countermeasure System (DIRCM), which the company has been carrying out for a while under the coordination of the Presidency of Defense Industries, will be exhibited for the first time at IDEF 2023.
The system that will interfere with the seeker heads of shoulder-fired missiles with lasers and the solutions to be developed will increase the safety of aircraft, especially helicopters.
ASELSAN, which has been working in the development and production of electro-optical, laser and avionic systems for many years, has brought Turkey the Directed Infrared Countermeasure System, which only few countries in the world have, providing full protection against MANPAD and other heat-seeking missiles from all directions.
The fact that terrorist organizations began to seize shoulder-fired missile systems from conflict zones around the world increased the threat level for the security of the platforms. Also, as technology improved, MANPADs became more resistant to flares used to disorient heat-seeking missiles.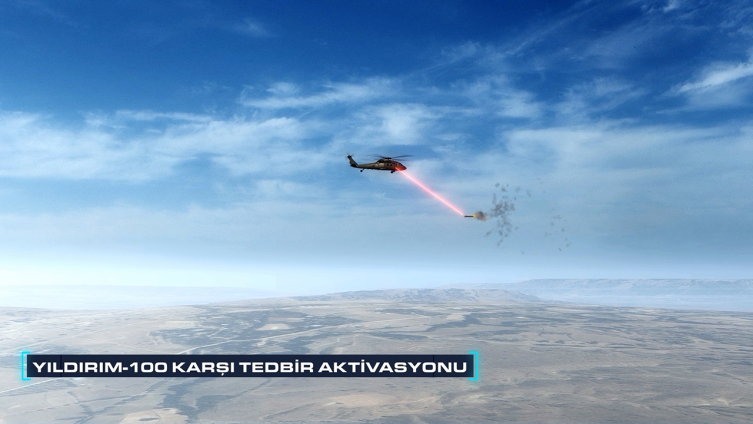 YILDIRIM-100 works in integration with different missile warning systems and flare shooters on the platform. Equipped with a precision gimbal, the YILDIRIM-100 turret sends high-power laser energy to an approaching guided missile, dulling the seeker's head and deflecting the missile.
YILDIRIM-100 has a double turret configuration and each turret uses a synchronized, multi-band directed laser against heat-guided missiles thanks to its Precision Tracking Unit and Laser Unit capable of producing high-power lasers. The system also includes a Control Unit that manages the DIRCM system and communicates with the missile warning system.