HAVELSAN's technical teams were transferred to the region with unmanned aerial and land vehicles under the coordination of the Presidency of Defense Industry, after the earthquakes affecting 10 provinces.
Unmanned aerial vehicles Baha and Poyraz drone, developed by HAVELSAN, took part in reconnaissance-surveillance activities to assist search and rescue teams in the region.
Aircraft Baha and Poyraz carried out reconnaissance-surveillance missions, especially in villages and mountainous regions, and shared the images they received with the coordination center in the region. Baha, which meets the need for images with the ability to fly under the cloud when it becomes difficult to take images with UAVs due to adverse weather conditions, provided the first information about the settlements where transportation is not possible.

It transmits high quality images
Baha, which does not need a runway due to its vertical take-off and landing capability, can successfully operate in different field and terrain conditions. Baha, which can fly up to 50 kilometers from the ground support center, can also be used in drizzly weather with its sealed body structure, and receives and transmits high-quality images from long distances with advanced electro-optical equipment.
Barkan, an unmanned land vehicle developed by HAVELSAN, was also shipped to the region with a load carrying basket. In case of need, Barkan will support the missions of transporting the wounded or material in the region.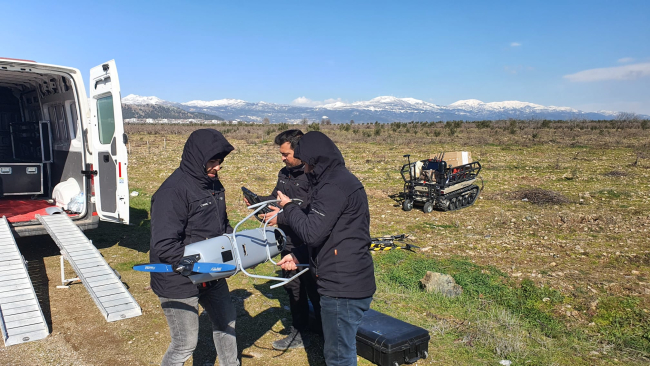 HAVELSAN Autonomous and Robotic Systems Manager Veysel Ataoğlu said that shortly after the earthquake, they moved to the region in line with the instructions of the Presidency of Defense Industries. Ataoğlu stated that they carry out reconnaissance-surveillance activities with the guidance of the coordination centers.
Ataoğlu and his team also provide food, basic necessities and fuel support to earthquake victims.