The electric vehicle team "EVA TEAM" formed by Altınbaş University students took their place in Turkey's biggest technology festival TEKNOFEST.
Founded in 2018 by students studying engineering and psychology, the team started to participate in Turkey's first and only aviation, space and technology festival, TEKNOFEST, with the projects they developed.

Competed in 6 categories
The team, which has participated in the Electric Vehicle Races, Robotaxi Passenger Autonomous Vehicle Races, International Unmanned Aerial Vehicles Competition (Fixed Wing and Rotary Wing Categories), Unmanned Underwater Systems Races, Rocket Competition and Technological Applications in Psychology Competition with its original projects, has won 12 awards in 5 years. won.
EVA TEAM won the first place among 1255 teams in the Technological Applications in Psychology Contest, in which it participated with the psychology team "EVA PSY", which consists of faculty members and students of the Department of Psychology and Computer Engineering students.

More than 100 students take part in teams
Director of the Electric, Autonomous and Unmanned Vehicles Application and Research Center (AUTONOM) operating within the university, Assoc. Dr. Süleyman Baştürk said that the infrastructure acquired by EVA TEAM, which was established in 2018, has turned into an application center.
Stating that the students participated in the competitions at TEKNOFEST by developing their projects at the said center, Baştürk said, "We were the 3rd in Turkey in the Efficiency Challenge Electric Vehicle Races organized by TÜBİTAK in the first year, and we also won the special jury award."
Stressing that the projects of students that started with electric vehicles continue exponentially from year to year, Baştürk said:
"In addition to the electric vehicle, we developed autonomous vehicle, unmanned aerial vehicle and unmanned underwater vehicle projects in both fixed wing and rotary wing categories in the following years. We formed a rocket team and participated in the rocket competition. We also participated in the 'Technological Applications in Psychology Competition' held for the first time within TEKNOFEST. We have completed our 5th year. In this process, our team has achieved great success with the awards it has won."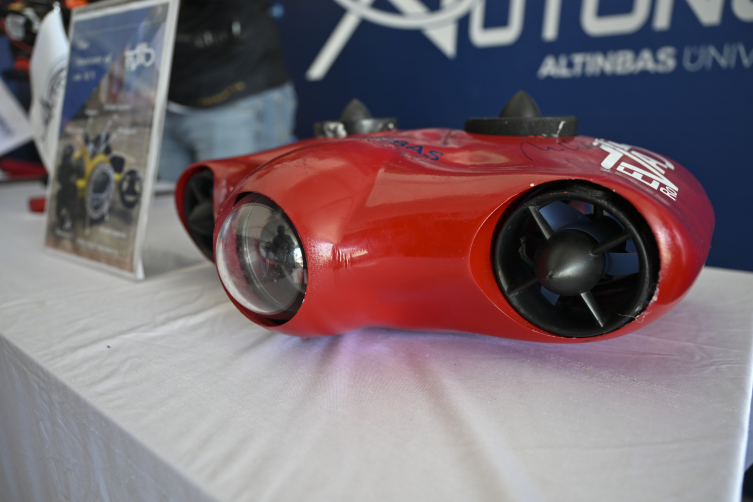 "Our students also work in production themselves"
Regarding the project they developed specifically for the Technological Applications in Psychology Competition, which brought them the first prize, Baştürk said, "Our projects within the team require interdisciplinary work. Our students from the Psychology and Computer Engineering departments came together and developed a project to measure the implicit behavior of people. They developed software by putting forward a project to determine a different or unspoken behavior with facial, mimic, image and sound frequency analysis.
Noting that the teams they formed under the umbrella of "EVA TEAM" in different fields continue to work, Baştürk said:
"This year we have a satellite team. We are also forming a cyber security team. Therefore, we have close to 10 teams. We have over 100 students from different engineering fields and social sciences. Our students not only learn the theoretical knowledge they learn in the lessons, but also turn this theoretical knowledge into practice. Students He does not only design in projects, he also works in production and achieves very good success in competitions."
Baştürk stated that the students involved in these studies were prepared for professional life from university ranks, and said, "Our friends, who are trained in these projects, can find jobs very easily in the distinguished institutions of our country, in R&D, defense and aviation companies."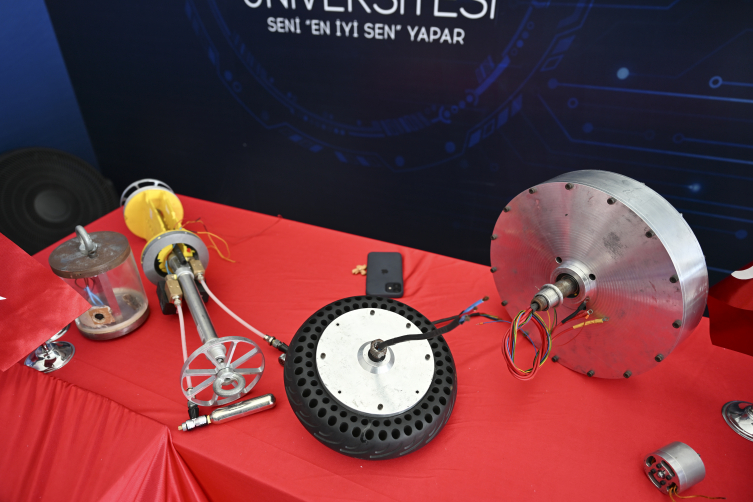 "We can get both internship and job opportunities"
Mehmet Cılız, a 3rd year mechanical engineering student and "EVA TEAM" Deputy Captain, said that they have developed many projects and they will continue to develop them.
Pointing out that they continue to work on projects especially in the field of cyber security, Cılız made the following assessment:
"All these competitions and projects earn us a lot. Thanks to TEKNOFEST, we have the opportunity to meet with many companies and get both internship and job opportunities. I work on unmanned aerial vehicles in the team. Therefore, I would like to work in the defense industry after graduation. High school and university. It will be a developer for them to take part in such projects."
Computer Engineering Department 3rd year student EVA TEAM Promotion and Sponsorship Team Captain Edanur Aktemur also expressed that the success they have achieved in projects is an indication that young people can do anything when given the opportunity.
Aktemur stated that "EVA ROV", which is also the unmanned underwater systems team, is also the assistant captain, and noted that they are carrying out projects to develop unmanned underwater systems here.