Minister Kacır visited the competition organized by ROKETSAN, which offers a unique opportunity for young people to experience in the field of space technologies.
Kacır said, "TEKNOFEST is the largest space, aviation and technology festival in the world and participation continues to increase every year. In the 100th Anniversary of the Republic, 1 million young people participated in 41 competitions. We are witnessing an increasing interest in the rocket competition from year to year. "While 156 teams applied for the Rocket Competition in our first year, 1098 teams said I'm in this race this year," he said.
Minister Kacır concluded his speech with the following words:

"By Allah's leave, we will continue to stand shoulder to shoulder with our youth in the journey of the national technology move, and continue to walk on this path back to back. I hope we will set many records together, and we will continue to put the Turk's signature in the sky together."
ROKETSAN Chairman of the Board Faruk Yiğit accompanied Mehmet Fatih Kacır and Selçuk Bayraktar, who visited the teams in the Hisar Shooting area and watched the shooting together. During the rocket launch, Selçuk Bayraktar said, "We set out with the dream of bringing young people together with technology at an early age and raising them in this direction. In this context, we will continue to stand by the youth."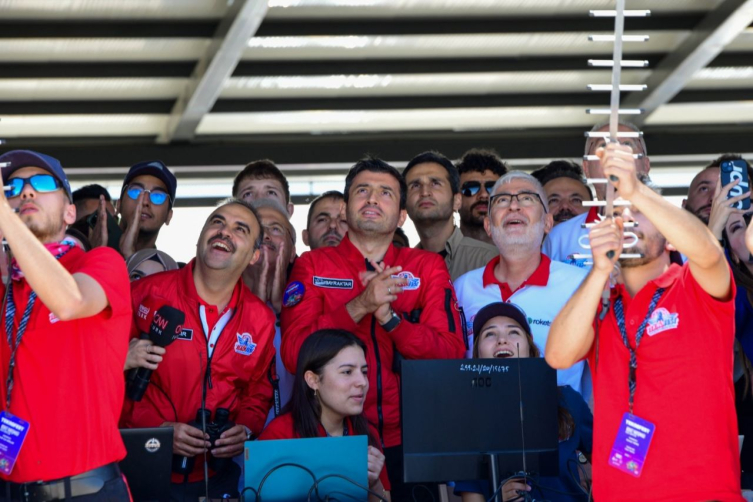 1 million 140 thousand TL prize in the Rocket Competition
Rocket Competition, which is among the most remarkable competitions within the scope of TEKNOFEST 2023, this year High School (Minimum 4 thousand feet), Medium Altitude (Minimum 8 thousand feet), High Altitude (Minimum 18 thousand feet) and Challenging Mission (Minimum 7 thousand 5 hundred feet) organized in four different categories. This year, 1098 teams applied to the Rocket Competition, where the number of applications increases exponentially. Those who qualified for the finals were 612 competitors with 64 teams.
High school, associate, undergraduate and graduate students and graduates participate in the competition, which provides young people with a unique technology adventure as well as an important step in their aviation career, team spirit and the achievements of being a team.
The total prize in the Rocket Competition, in which the awards were multiplied within the scope of TEKNOFEST 2023, is 1 million 140 thousand TL.