The journey of the 7th National Antarctic science team, which will be held under the coordination of TÜBİTAK MAM Polar Research Institute (KARE), under the auspices of the Presidency and under the responsibility of the Ministry of Industry and Technology, has begun.
For the first time this year, 3 high school students will take part in the science team. High school students from Antalya, who won the "High School Students Pole Research Projects Competition" organized by TÜBİTAK Scientist Support Program Presidency (BİDEB) within the scope of TEKNOFEST, will conduct studies on microplastics in the largest ice desert of the world.

"We are ready both physically and psychologically"
TÜBİTAK KARE Institute Director Prof. Dr. Burcu Özsoy made a statement at the Istanbul Airport VIP Lounge before the trip. Özsoy said, "We will depart from Istanbul and we will be transferred to Antarctica today. We will carry out our scientific studies in the ship in more than a month. There are 19 Turkish scientists and 3 foreign scientists in our 7th scientific expedition to Antarctica. Turkish scientists were included in the ship. This year, we will be performing 18 different projects. In addition to our female students, the expedition team consists of 1 in 3 female researchers. Now the team is ready, both physically and psychologically," he said.

"Glacier work will be done"
Expressing that climate change also causes ruptures in glaciers, Özsoy continued his speech as follows:

"The poles are in everyone's lens. We are experiencing thirst in Istanbul. We could not fully experience the winter season. Drought has arrived. The Cups are also affected by this issue. Terrestrial glaciers are seriously integrating on the land, integrating into the ocean and increasing the sea water level. It affects the existence of the ecosystem. Salt, which makes a sound all over the world. A mass the size of a lake broke off and integrated into the ocean. I don't think there was an iceberg that we could directly observe during our expedition, but there is serious melting of the glaciers. Besides, we see that there are no previous ice areas in the area where our base is located. As we associate all studies with climate change, we also associate the ice with our studies. will be available."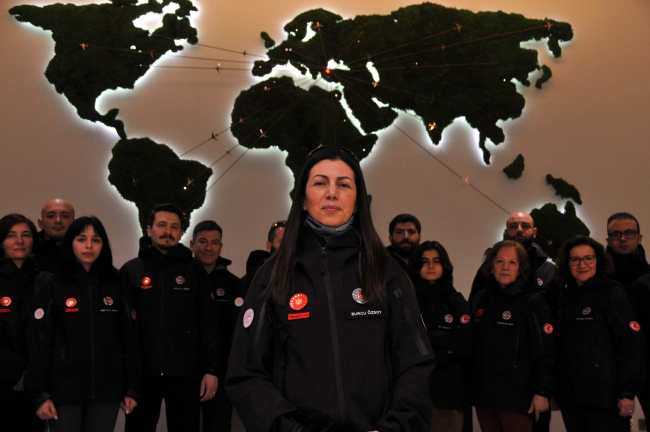 great pride for us
Zeynep İpek Yanmaz, one of the three high school students in the science team, stated that she was very happy and said:
"The biological plastic they produce from acorns will dissolve in a short time like 45 days, instead of plastics, which are biodegradable in a period of 450 years. The plastic we produce is 20 times more durable than the market bags currently used. We first presented our project to the jury in Giresun. TEKNOFEST is subject to an interview in the Black Sea region. "We were hired. We were chosen first. We are very excited. It is a great opportunity for us to try our project in the region. It is a great chance to visit and work at the science bases of different countries. It is a great honor for us."