16-year-old Dumlupınar Science and Art Center student Diler, who won the 2204-D High School Students' Climate Change Research Projects Competition, received her award worth 30 thousand TL from President Recep Tayyip Erdoğan at TEKNOFEST held in Istanbul.
Diler, who draws attention with his project, is proud of participating in the arctic expedition under the auspices of the Presidency and coordinated by the TÜBİTAK MAM Polar Research Institute (KARE) under the responsibility of the Ministry of Industry and Technology.
Diler said that oil is one of the most common pollution in water in daily life.

Became the first high school student to go on an Arctic science expedition
Stating that he aims to clean the oil in the water with the substances found in nature, Diler said:

"I used eastern sycamore fruit for this too. Because it is everywhere and I searched for its fibers. As a result, I learned that it can clean oil. I experimented with the ASTM procedure. We also used different materials. The best results were the fibers of the eastern sycamore fruit. Where I used a gram, 26 grams. We cleaned the oil. First of all, I was very happy when I won this first place. I was very happy that my efforts paid off in the end. I was very happy to be the first high school student to go on an Arctic science expedition, because the scientific research I will do there and the scientists I will meet will greatly contribute to my future life. I want to experience my project in the North Pole, where we will be heading towards the end of this year."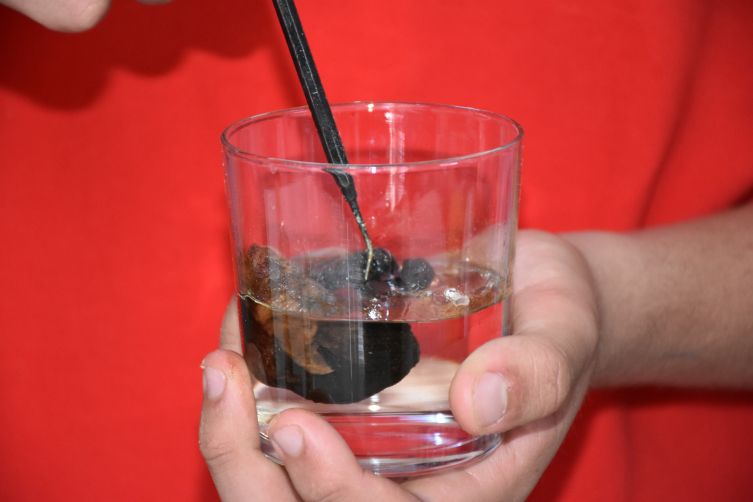 "Thousands of gallons of crude oil spill into the sea"
Consultant teacher Yıldız Leblebicier also explained that they have been preparing projects with experimental studies on green chemistry for many years with her student Hulusi Diler.
Reminding that the world is getting more and more polluted every year, Leblebicier said, "Right now, oil is indispensable for us and all the countries of the world use this oil. Oil is mostly transported by sea or extracted from oil wells in the sea. Various accidents occur during this transportation and oil extraction. As a result, thousands and millions of gallons of crude oil spill into the sea. Since oil is lighter than water, it forms a film layer on the surface of the sea. Therefore, it prevents both sunlight and oxygen from reaching the sea creatures. Thus, we disrupt the marine ecosystem. It also affects us, of course.' he said.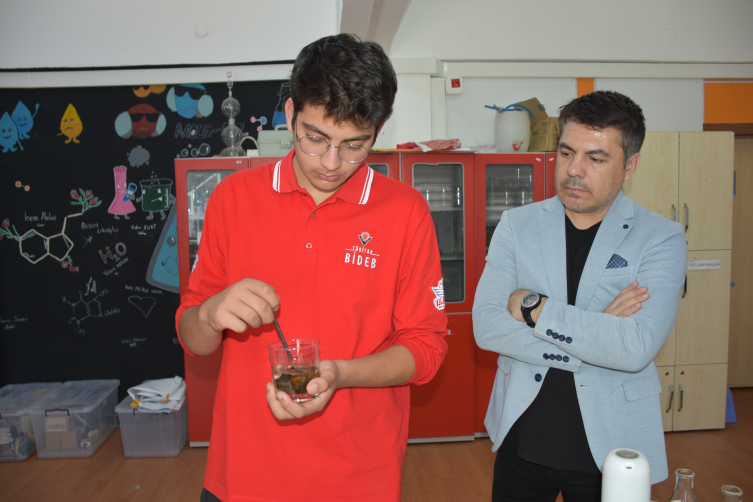 "The oriental plane fruit bears fruit in large quantities and quickly"
Expressing that they are working to purify oil from water with renewable raw materials, Leblebicier said:

"We conducted experiments on dandelion, human hair waste and oriental sycamore fibers, which are easily accessible in our environment, have low density, do not like water but love such crude oil and mineral oils. Among them, the fibers of the oriental sycamore fruit gave us the best yield. Later, we focused our work on these fibers. Eastern plane tree is a perennial plant and can live for many years. It gives fruit in large quantities and fast. It is not difficult to reach it. It is also easy to grow. After finding the raw material, the production part is not a part that requires technology. It just consists of breaking the fruit and sifting it. In this way We think that with the samples we prepared, people can clean up oil spills wherever they want."
Stating that one of the awards brought by this project is the inclusion of his student Hulusi Diler in the 3rd National Arctic Scientific Research Expedition, Leblebicier said, "He will go to the poles at the end of 2023 and will carry out these studies there. Both on behalf of the institution, on behalf of our students, and as a teacher. I am very happy for myself," he said.