Many countries such as England, Portugal, Spain use wave energy. This resource, which can be obtained from the seas, provides a great opportunity for the country to diversify its energy resources.
Turkey, which is a peninsula country, has a very important potential to provide this energy source from its seas. So much so that, on the model developed by Turkish scientists, it managed to increase the efficiency by 30 percent.
Studies are continuing to increase the efficiency of the wave energy coming from the seas with the researches carried out at Istanbul Technical University (ITU).

"There are serious developments to increase efficiency"
ITU Civil Engineering Faculty Member Prof. Dr. Abdüsselam Altunkaynak explained their goals to increase efficiency from wave energy:
"Wave energy is a renewable energy source with potential. We have wave energy potential as our country is covered with seas on three sides. The biggest problem in wave energy is the low efficiency in converting wave power into electrical energy. In other words, this is about 10 percent. Together with our doctoral students, we have made serious developments to increase this efficiency."


"We increased the yield by 30 percent"
Altunkaynak says they have increased the efficiency of wave energy by thirty percent. However, he stated that the potential to be obtained from wave energy is much more and said, "We are not satisfied with this. We aim to increase this even more," he says.
"Our whole aim is to make it feasible and to ensure that our country can benefit from this wave energy."
Many countries surrounded by seas are using and developing wave energy. Because this energy is a good alternative for countries to diversify their resources.

"We increase the efficiency of the oscillating water type model"
ITU PhD student, Civil Engineer, Murat Barış Mandev, explains that there are various types to get wave energy from renewable energy sources:
"There are many different types of wave receiving structures. The most important reason why these wave receiving structures have not been implemented so far is that they are not economical and efficiency losses during electricity generation.
Among the wave energy receiving structures operating on the shore, the most efficient is the oscillating water column type wave receiving structures. In our model here, we are conducting it to increase the efficiency of the oscillating water type model."


"Energy is produced by utilizing air movement"
This study is carried out in the laboratory of Istanbul Technical University, where structures related to water are modeled. The panel, which is thirty meters long and one meter wide, contains sixty centimeters of water.
"There is a wave receiving structure within our channel. Energy is produced by making use of the air movement inside the building with the waves we send."
Mandev says the two most important characteristics of a wave are its height and period:
"With the software on our computer, we can produce waves at the height we want and the period we want. Our structure consists of pressure probes and wave sensors, height sensors. We generate wave energy with the effect of the air that comes out of this structure, which we call the orifice, and pushes the air to the tribune in front of it."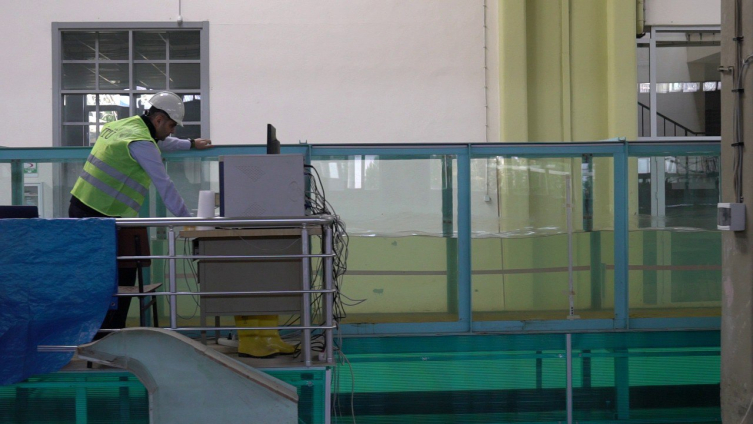 "We aim to place the models on the shores"
The model featured in the channel is 1/25th of its actual scale. Researchers aim to develop this model and place it on the coasts.
"With these models, which are about the size of a car, which we will place on the shores, we can easily meet the energy needs of our towns near the shore, if used more than once.
It is our belief that with the models developed, we can meet at least 10-15 percent of our energy needs with wave energy."