The world's largest satellite manufacturers and satellite operators met at Satellite 2023, held in Washington, the capital of the USA.
The future of the industry and new business opportunities were discussed at the event, which has determined the direction of the industry by bringing together senior executives, engineers, government officials and commercial customers from the satellite technology industry for more than three decades.
At the fair, which determined the future of the world satellite industry, TUSAŞ, TÜRKSAT and PROFEN also introduced their products and capabilities.
Turkey's Washington Embassy Deputy Head of Mission Sinan Ertay and Military Attaché Brigadier General Hakan Çanlı also visited the stands of Turkish companies participating in Satellite 2023.

"An opportunity to introduce ourselves"
TUSAŞ Deputy General Manager Selman Nas stated that actors related to space, especially satellite, gathered in Satellite 2023.
Explaining that they developed important business relations, examined the newly released products and contacted the companies, Nas emphasized that Satellite 2023 was an important fair for them.
Talking about the products exhibited by TUSAŞ at the fair, Nas said that one of their most important projects is the TÜRKSAT 6A satellite, and that they gave information about this satellite to the fair visitors. Nas stated that they also introduced the observation satellite GÖKTÜRK Renewal Satellite at the fair and noted that they are trying to create partnerships. Stating that they also exhibited Small-GEO, a commercial communication satellite, Nas explained that these satellites are electrified and have a low mass.
Stating that they are investigating cooperation opportunities at the fair, Nas said, "It is an opportunity for us to introduce ourselves, as well as to make partnerships and get to know our competitors." Nas noted that they also held talks with representatives of satellite operators from various countries at the fair.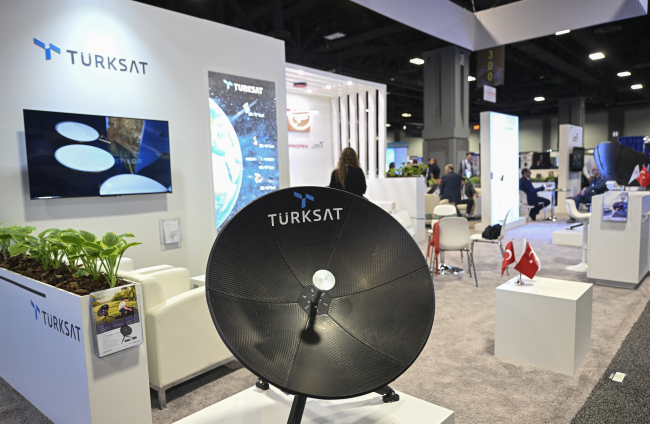 "There was an intense conversation traffic with companies"
Türksat Satellite Services Deputy General Manager Selman Demirel said that they represented Turkey at the fair, examined the developments in space technologies and introduced their products.
Describing Satellite 2023 as "the heart of the space industry", Demirel said, "It is an event where technological developments in the space industry are discussed and decided."
Demirel stated that TÜRKSAT is the only satellite operator in Turkey and that it currently provides services in 3 different orbits with 5 communication satellites.
Explaining that they introduced Türksat 5A and Türksat 5B satellites at the fair, Demirel noted that these two satellites are equipped with the latest technology, they have an electric propulsion system and a serious communication capacity.
Demirel stated that they introduced antenna solutions as well as these satellites and said, "We had meetings with many different companies. There was an intense traffic of meetings with companies related to the services we provide."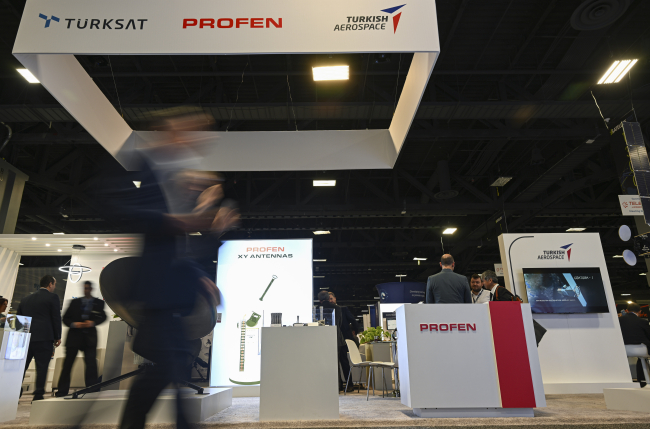 "We believe that it will make an important contribution in terms of exports"
Kamil Yüksel, General Manager of PROFEN Defense Technologies, stated that Sattellite 2023 is an important fair for Turkey. Yüksel said, "It is important for us and for our country because the space sector is an area that is getting more and more important and there is an interest in this issue in our country."
Stating that PROFEN introduced its products such as ground stations, antennas and antenna components at the fair, Yüksel noted that they had the opportunity to show them to customers from all over the world.
Talking about the innovative products they exhibited at the fair, Yüksel explained that they introduced their portable antenna systems with automatic orientation and their production capabilities with metal printers.
Yüksel stated that they also exhibited the XY Antenna, which they developed with their own capabilities and of which they are one of the few manufacturers in the world, at the fair. Stating that this attracted a lot of attention, Yüksel said, "We are very pleased with the interest we have received. We believe that this will make a significant contribution to both our country and our company in terms of exports."

TAI participated in the fair with its earth observation and communication satellites products.
Turkey's satellite exporter TUSAŞ showed up at Satellite 2023 with its earth observation and communication satellites products. At the fair, TUSAŞ gave information about its new generation products such as GÖKTÜRK Renewal Satellite and TÜRKSAT 6A Satellite, which were developed with national and domestic facilities.
In addition, the communication satellite family with a new generation electric propulsion system with high data output capacity, developed together with its subsidiary GSATCOM operating in METU Technopolis, was also introduced at the fair. It has been reported that this satellite, which has been sold, will serve to meet the civil communication needs of the Argentine National Telecommunications company ARSAT in the South American Continent within the scope of ARSAT-SG1 Satellite Project.

TÜRKSAT exhibited its domestic and national products
TÜRKSAT took part in the fair with the PeycON Antenna Family, which has SOTM (Satcom On The Move) antennas.
In addition, TÜRKSAT exhibited its domestic and national products HidrON, TerrON and Aeron's half row backpack Manpack solution MicrON.

PROFEN introduced new generation satellite technologies
PROFEN, which can communicate with satellites in all orbits and responds to national and international needs with fixed, mobile and portable antenna systems developed with national resources, provides the latest technological version of "Visionic" M&C software, which allows satellite ground stations and data centers to be managed more intelligently and more securely, Satellite 2023. He exhibited in.
PTA series portable antennas developed by PROFEN, "Nspector", a real-time spectrum analyzer with a unique structure, and the universal backup unit called "Protector", which attracts attention with its privileged functions, were also introduced at the fair.
PROFEN brought the panel antenna, the first phase output of the program that develops K/Ka Band antenna systems for satellite communication terminals on the move, to the sector players within the scope of this fair.