ULAK Communications exhibited a series of communication solutions it has developed recently at TEKNOFEST Ankara, which continues at Etimesgut Airport under the management of the Turkish Technology Team Foundation (T3) and the Ministry of Industry and Technology.
ULAK Communications General Manager Zafer Orhan said that TEKNOFEST is one of the important levers of the National Technology Move.
Emphasizing that it attracted great interest because it was held in Ankara for the first time, Orhan said, "The realization, design, implementation, implementation of our country's national products, showing them to our people, to the younger generation, 'You can do it too.' We are justifiably proud of being able to say that." he said.
Upon questions regarding the UYGAR Communication Pod, which transforms unmanned aerial vehicles into a strategic communication tool with a base station, Orhan stated that the 4.5G UAV-based project was delivered to ULAK as a project of the Presidency of Defense Industries.
Stating that they set out to develop 4,5G communication systems for military purposes, Orhan said that the pod was tested in the ANKA vehicle of Turkish Aerospace Industries.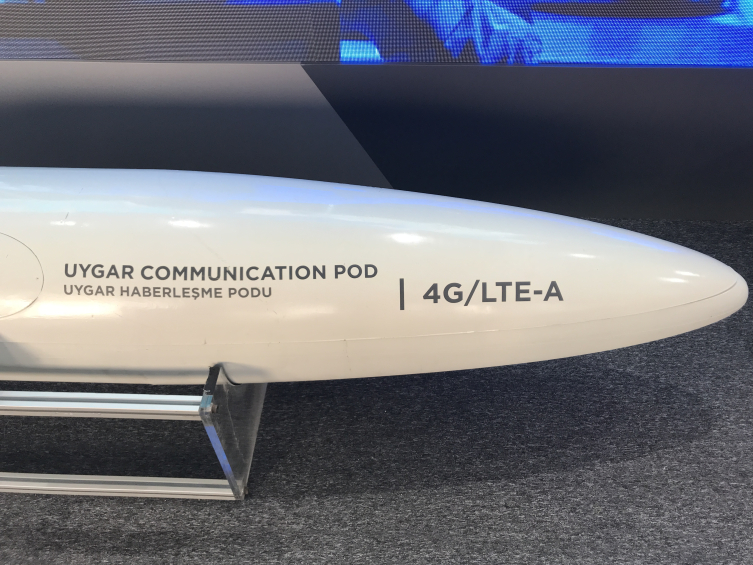 It will benefit the military and civilian areas.
Emphasizing that many components of the UYGAR Communication Pod, such as the radio, core network and antenna, which were developed with national resources, bear the signature of Turkish engineers, Orhan stated that successful tests were carried out at different altitudes after the pod placement and ground tests.
Explaining that a great deal of effort has been made for the development and reproduction of the pod, Orhan said:
"It provides capacity in an area of ​​2 square kilometers at high altitudes. It can offer you all the opportunities provided by 4.5 LTE technology, such as internet access, data sending, and voice communication. We are providing our Turkish Armed Forces with an important capability for military activities in our close geography. In addition, earthquakes in the civilian area. There are disasters such as floods, etc. We will fill an important gap in this field with this opportunity.
Here, our greatest pride is that we have accomplished this entirely with our own engineers and our own resources. It is a source of pride for the antenna to be presented with different designs and the base station to be modified to meet international standards in aviation. A 2-year project, we have reached the final. We will try to improve it from now on."

With a mobile phone, everything can be done safely in a closed network
Pointing out that the commercialization process of the pod is at the beginning stage, Orhan said, "We are now able to function. We are on the eve of duplication and dissemination. We had different meetings abroad as well. It will be an important product capability in terms of export. We will act together with TAI and add it to our export words as a national product. " said.
Explaining that ANKA can communicate with 1200 people in an area of ​​2-5 square kilometers by using pods, depending on the altitude, Orhan noted that everything that can be done with a mobile phone can be done in a closed network and securely.