160 young people attending classes on weekends at DENEYAP Technology Workshops, initiated in cooperation with the Ministry of Industry and Technology, the Ministry of Youth and Sports, TÜBİTAK and the Turkish Technology Team Foundation (T3 Foundation), are preparing for the technologies of the future within the scope of the "National Technology Move" vision.
Cem Kadir Ovalı, who has been working as a youth leader in Karabük Youth Center for 12 years, is a student of 4-5 and 8-9 students, who are selected among approximately 1500 students. He stated that they gave education in two groups as classes.
Explaining that they continue to work in the production and design category, Ovalı said, "We give our children information about how the material will be designed and then how the production will be. They receive crisis management training when they encounter a problem. Our expectation is that they will come up with original ideas. They will also attend TEKNOFEST in the future." said.
Instructor Muhammed Emin Akın explained that they aim to learn the necessary information in the market or industry for the students who are introduced to design and production, and said that trainings are given in the workshops to improve the engineering skills of the children.

"We want to raise the new generation for production"
Workshop teacher and material engineer Coşkun Paksoy also stated that they aim to provide students with perspective and vision in the courses.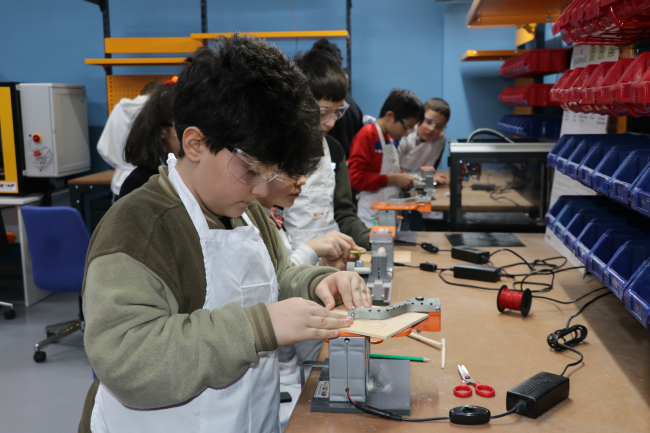 Mentioning that they first gave the children entry-level information in basic sciences, Paksoy said, "Then we have a long process that continues for 12 weeks in 12 different fields. In the 4-year DENEYAP project, we aim to enrich our youth both culturally and scientifically. In order to achieve our goals, we take care of material management. We provide students with basic information in many fields such as mechanical engineering, software, production and manufacturing technologies, robotic coding, space technologies and aviation." he said.
Underlining that Turkey has a production-oriented target, Paksoy said, "For this, we want to raise the new generation with a production target. In addition to our education system, DENEYAP workshops are an important factor to encourage, support and move them forward." made its assessment.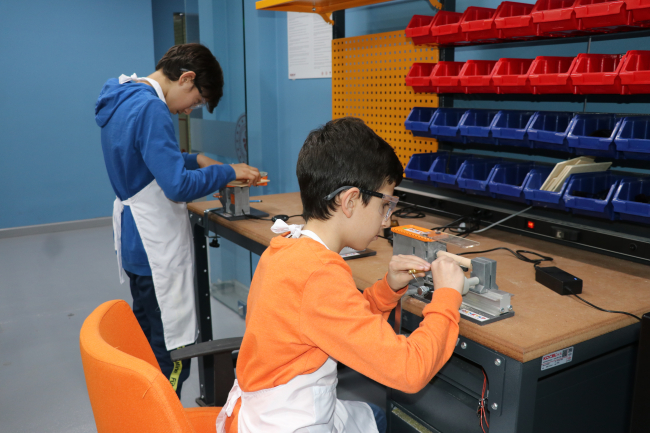 "A lot has changed in my life after I came to the workshop"
Oğuzhan Orhan, a 5th grade student who attended the trainings, explained that he teamed up with his friends in the workshop and learned about the production stages. "A lot has changed in my life after I came to the workshop." used the phrase.
6th grade student Mahir Alperen Aslan noted that he learned manufacturing methods and the use of materials in the workshop.
On the other hand, 5th grade student Zeynep Buğlem Kava stated that she learned drawing, using a lathe with machining and chipless manufacturing methods in the workshop, doing group work with her friends and contributing a lot to her life.
Yiğit Kadir Aliusta said that their teachers worked hard to train them and they did their best.